Well, I just wrote a rather lengthy note with photos, hit publish and received an error message ;( Waaaa! So I will try again, and hope this doesn't appear twice!
Like "Catknip" and Maria wrote earlier, I am behind the rest of you, too ;) In fact I have only finished two repeats of the basket weave section. Here it is, not blocked at all, only stretched out for this photo. At this stage, it is only 16 inches wide but the wool will take a lot of blocking so I think I will easily be able to make 18 inches wide, though maybe not 19.
Can you see the faint difference in the knitting towards the lower edge of the my stole? That is a spot in my spinning where my yarn was finer and it shows. I am hoping it won't be so noticeable in the finished project, while being worn.
Here is a close up of the beads on the edge: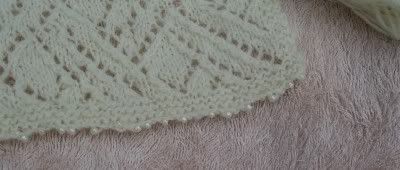 I love how they look, and glad that I decided to use them. At first I wasn't going to, but seeing photos of the rest of your projects I changed my mind!
One of the reasons I am so slow is that I am spinning my yarn, from my own sheep! It is 100% Corriedale
Comfort
Wool! You can see more photos and details of my stole at my own blog,
Serenity Farms
, plus a picture or two of the sheep who provide the fleece that I spin from.
I can't tell you how much I have been enjoying this KAL and the relaxing nature of it all! Many thanks to T&J!